Fencing services in Chennai
Nowadays fencing is required for all type of open land properties, Chennai and its Surrounding 50 Kilometer area are large Real Estate Hub, Most of the middle class people invest their Money in Real Estate by buying open ground Property in those area. For Middle class Life even a small investment is a big thing and it safety is important, to make sure your property is safe We have to put fence and paint it with different colors so that you can identify your property clearly whenever you visit the place. Make sure you Visit your property at least once a Month to make sure its existence Barbed wire fencing Chennai is the best option to safe your property
Om muruga Fencing contractors in chennai Whether you want ,chain link fencing,barbed wire fencing,security fencing , or metal fencing for security, electric fencing , our fencing contractors in chennai make supply and done install exactly what our customers need.Fencing Works in chennai is the premier manufacturer of high quality fencing services and fencing materials suppliers and dealers in chennai. Om muruga fencing services in  chennai is committed to offering fencing solutions that give our customers peace of mind. Feel confident with industry leading durability backed by our Transferable Limited Lifetime Warranty.We also provide a full fencing works in chennai have been installation service to homeowners where we supply and erect the fencing to the customer requirements.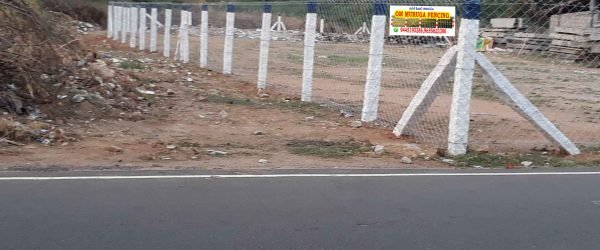 Fencing contractor in Chennai
Om muruga fencing  Dealers In chennai has created a reputed place as a Manufacturer, Supplier and Exporter of wire and wire allied products in the market. Based in Chennai, the company forayed into this business with the commitment of excellent performance and durability to cater to wide requirements of users.Om muruga leading fencing contractors in Chennai. we can do best high range of fencing materials are used to fence areas for client requirements. We are one of the fencing materials dealers and suppliers in Chennai. fencing contractors in Chennai are specialists in all types of chain link fencing, barbed wire fencing, pvc wire fencing, gi wire fencing are direct dealers and suppliers in chennai . We are fencing Contractors as well as Manufacturers for all types of fencing. Om muruga fencing contractors in chennai can provide the fencing solution that you require at a very competitive price to suit all budgets. Our recent fencing contractors focus has been on new school projects, power plants, parks and sports,home and estates,industries,colleages,agricultural lands,empty land facilities etc,. Experienced, qualified and dedicated workers are the backbone of our company, who believe in offering customers appreciable quality services.
We provide high quality fence:
Builders Property
Schools Property
Colleges Property